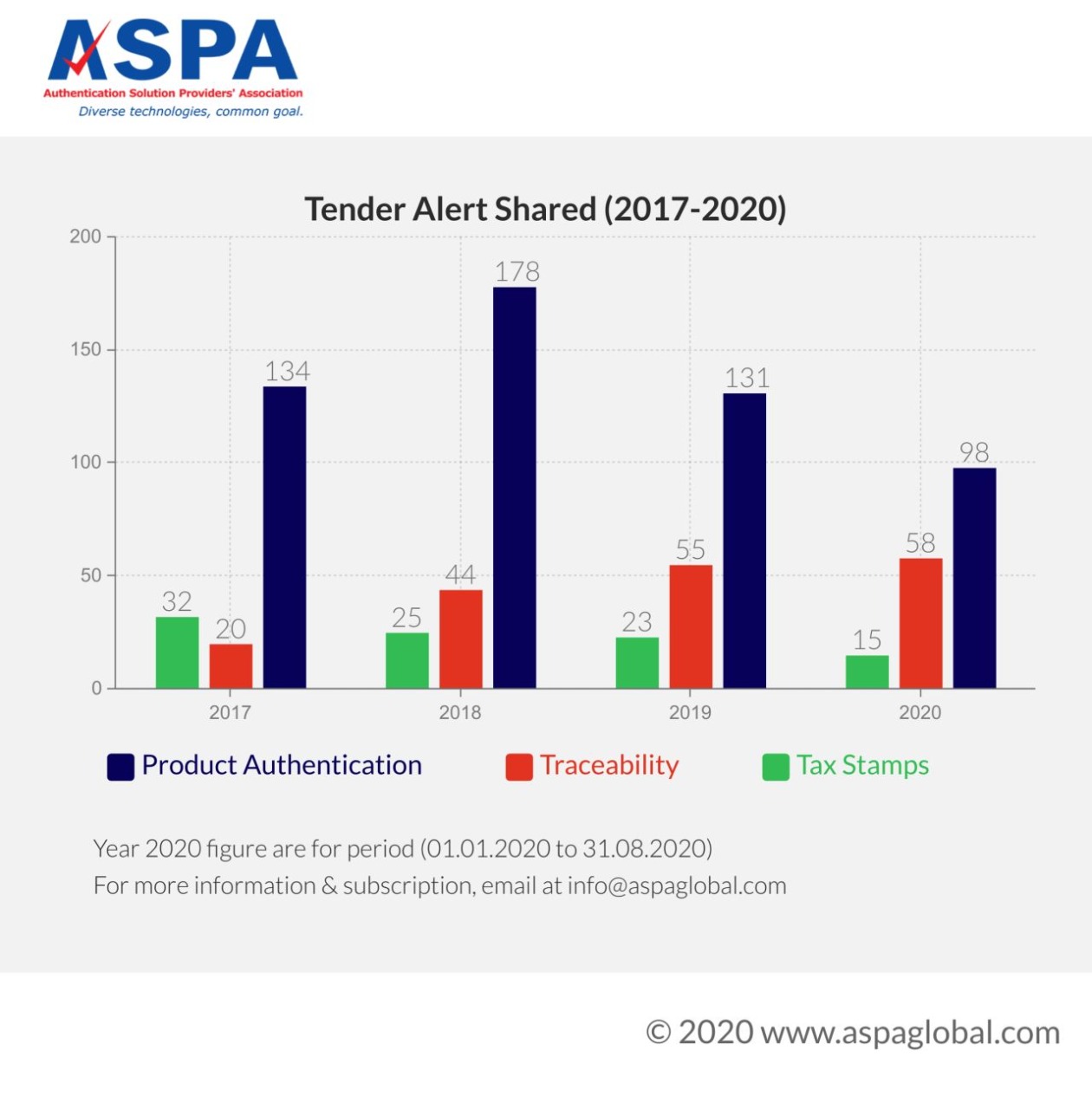 What is it?
An email service provides details of new and old tenders related to the Authentication & Traceability industry.
Benefits
Never miss a tender
Receive relevant tenders for your products and services
Saves you time and money, searching
Respond to tenders from the email
Download archive tender document
Latest tenders
Sri Lanka Prequalification are invited for Provision Of Security Printing - Direct Mailers With Date, FD Receipts, ID Cards, Etc.
Organization: BANK OF CEYLON
Deadline: October 29, 2020
USA Tenders are invited for NH Tobacco Tax Stamps
Organization: STATE OF NEW HAMPSHIRE
Deadline: September 23, 2020
India Tenders are invited for Selection of supplier for production and supply of high-security holograms
Organization: ANDHRA PRADESH STATE BEVERAGES CORPORATION LIMITED-APSBCL
Deadline: September 29, 2020
Paraguay Acquisition of ribbons, cleaning kit and holographic products
Organization: MUNICIPALIDAD DE CAPIATA
Deadline: September 30, 2020
India Tender for production and supply of tamper-evident polyester high-security holograms with QR code
Organization: Office Of The Commissioner Of Excise, Assam
Deadline: October 1, 2020
Rome From farm to fork: supply chain management with traceability and verification
Organization: EUROPEAN SPACE AGENCY (ESA)
Deadline: October 9, 2020
India EOI invited for Procurement of one number of Fully Automated in line Smart Card Manufacturing Machine for Contactless Cards at Security Printing Press, Hyderabad
Organization: SECURITY PRINTING PRESS, HYDERABAD
Deadline: October 16, 2020
Archive Tenders Documents
Year 2020
AUTHENTICATION & TRACEABILITY TENDER
Indian Oil Corporation: Tender for supply of tamper evident labels
National Agricultural Co-operative Marketing Federation of India Ltd: Engagement Of Software Development Agency For Development Of A Qr Code Based Software System For Track And Trace Of Commodities For Nafed
Uttar Pradesh Medical Supplies Corporation Ltd, invite tender for vehicle tracking systems and bar/qr code systems provider.
France: MINISTERE DES ARMEES invites tender for Supply, installation and mco of a complete RFID system for the management and traceability of aeronautical tools for the aia cp.
India: CSIR, Nagpur invite tender for web-application for emission monitoring / testing compliation of result and certification issuance along-with QR code generation and database handling.
Sudan: African Union invite tender for development and operationalization of the livestock identification traceability system in Sudan.
China: Shnaghai Mechanical and Electrical Equipment Tendering Co. Ltd. invite tender for providing automatic reading, photographic and traceability system for drug sensitivity results of Huashan Hospital affiliated to Fudan University.
Vietnam: Office of the General Department of Fisheries invite tender for guide farms to apply Vietgap national standard on organic agriculture associated with chain link, traceability, product labeling. EMD value: VND 5Million
India: Hindustan Insecticides Ltd invite tender for QR code based traceability system.
Namibia: Ministry of Agriculture, Water and Land reform invite PQB for livestock identification and traceability system.
CURRENCY AND IDENTITY DOCUMENT TENDER
Germany, Bundesdruckerei GmBH invite tender for the supply of printing inks for the production of Euro banknotes ES2-10
Nepal: Nepal Rastra Bank invite tenders for designing, printing and supply of 190 million pieces of Nepalese Rupees 500 denomination banknotes
India: Bank Note Press invite EOI for design, manufacturing, supply, installation and commissioning of two banknote printing and finishing line.
India: SPMCIL invite tender for supply, installation, testing and commissioning of six color sheet-fed offset printing machine for printing on polymer/plastic and paper substrate.
Nepal: Department of Transport Management invite tender for supply and delivery of Driving License Smart Card.
TAX STAMP TENDER
Spain: GERENCIA DEL ÁREA DE SALUD DE NAVALMORAL DE LA MATA invite tender for hiring the external service of the call center (cat) of the fnmt-rcm (ceres, Electronic id, Revocation / suspension / cancellation of the suspension, Return, Sne and traceability of tobacco). The estimated value of the contract: 30,000.00 Euros.
Zambia: Tender are invite for supply of 50,000,000 reel type and 40,000,000 pre-cut format cigarette duty stamps
USA, Florida tender for heat applied cigarette tax stamps
Macedonia: Procurement Of excise stamps For tobacco Products, intermediate products and ethyl alcohol
USA: Tobacco Stamps for a five (5) year contract for the Tennessee Department of Revenue
Georgia: Tobacco tax stamp
Armedia Purchase Of Tobacco", "excise Stamps And Stamps Printing" On Alcoholic Beverages
USA: Bid invited for Twenty Five million, five hundred thousand, Mobile County Cigarette tax combination stamps black lettering on light grey background fuson type.
USA: Department of Business and Professional Regulation (DBPR) Florida RFP for Heat Applied Cigarette Tax Stamps.
India, Uttar Pradesh: Excise Department invite tender for selection of system integrator for development and maintenance of integrated excise supply chain management system for the Uttar Pradesh Excise Department.
Year 2019
AUTHENTICATION & TRACEABILITY TENDER
World Bank (Expression of Interest for A sustainable, traceable climate-smart and inclusive rice supply chain
Morocco: Tenders are invited for the establishment and management of a traceability and marking system for the control of the availability and quality of petroleum products
Poland: Supply Of Holograms For The Lukasiewicz Research Network - Institute Of Precision Mechanics In 2019-2021
India: National Agricultural Co-operative Marketing Federation of India Ltd: Engagement Of Software Development Agency For Development Of A Qr Code Based Software System For Track And Trace Of Commodities For Nafed.
Tea Board India invite EOI for designing, development and comissioning of end-to-end technology to ensure traceability of the entire value chain of tea trade.
India: Unique Identification Authority of India invite RFP for aadhar hologram provider.
CURRENCY TENDER
USA: Distinctive currency paper, Non-Distinctive banknote paper, and test paper samples to support the Bureau of Engraving and Printing (BEP) manufacture of U.S. Currency.
India: Global tender for manufacturing and supply of overprint varnish for Indian banknotes
India: Bank Note Paper Mill India Private Limited (Tenders are invited for Supply, Installation, Testing & Training Of Security Documents Examination & Authentication System For Banknote paper/Banknotes)
Nepal: Procurement of the designing, printing and supply of 230M pieces of Nepalese banknotes
India: Reserve Bank of India invite bid for development of mobile application for identification of denomination of Indian banknotes
TAX STAMP TENDER
India, Chhttisgarh Excise: Production and supply of polyester based tamper-evident high-security hologram
India, Himachal Excise : Printing and supply of polyester excise hologram
Philippines: APO PRODUCTION UNIT, INC. invited bid for procurement of security features, enhancement and application, support/maintenance of internal revenue stamps integrated system (IRSIS) for Tobacco Tax Stamps
USA, Virginia : Cigarette Tax Stamps (Approximately 9,720,000 toacco tax stamps on yearly basis)
USA, Connecticut, Department of Revenue Services (DRS): Bids for cigarette tax stamps (Approximately 78,000,000 stamps per year)
State of Louisiana invite bid for tobacco tax stamp and data solution
Malta: Tender for the supply of banderols for quality wine certification
USA, Maryland: Cigarette Revenue Stamps for the Comptroller of Maryland
South Africa Revenue Service: Provision of production management, track & trace solution for cigarettes
India, Puducherry Excise: Tender for printing and supply of security hologram as an excise adhesive label on the liquor bottles
Year 2018
AUTHENTICATION AND TRACEABILITY TENDER
Malaysia: Universiti Malaysia Pahang - Subscription of blockchain and QR code application for UMP digital transformation.
Indian Oil invite Design, engineering, software development, manufacturing / supply, installation, testing, trial run and commissioning of QR code based Track and Trace system along with associated works with 2 year warranty and 3 year comprehensive AMC for Lube & Grease locations.
Republic of Mauritius, The Ministry of Technology, Communication and Innovation hereby invites qualified Consultants/Consultancy firms to submit their bids for Procurement of Consultancy Services to develop a strategic plan for the adoption of Blockchain Technology.
South Africa: Southern Africa TB and Health Systems Engagement invite tender of a community based organisation to track and trace ex-miners who submitted their insufficient claims to facilitate submission of missing documents.
CURRENCY TENDER
Bangladesh: International e-tender for selection of security thread for currency and banknote paper.
India: BRBNMPL invites global bid for procurement of magnetic security thread.
India: BRBNMPL invites global bid for procurement of dual color cellulose bases security fibre.
India: BRBNMPL invites global bid for pre-qualification of vendors for manufacturing and supplying color shift intaglio security ink.
India, Assam: Tender for Production and Supply of Polyester based Tamper-Evident High-Security Hologram.
Bangladesh: International e-Tender for Supply of 1,50,272 reams (In sheet form) or 2,815 Metric Tons (In reel form) Cigarette Tax Label Paper.
Canada: Request for proposal for Excise Stamp System by Canada Revenue Agency.
Armenia: Tender for supply of Tax Stamps.
India, Karnataka: Tender for the production of polyester based holographic excise adhesive label (HEAL).
USA, State of Louisana: Tobacco Tax Stamp & Data Solution.
USA, Massachusetts Department of Revenue: Encrypted Tobacco Excise Stamps.
Year 2017
AUTHENTICATION AND TRACEABILITY TENDER
Kenya: Energy Regulatory Commission tender for provision for the services for the marking and monitoring of petroleum products.
INDIA: Reserve Bank of India invite global EOI for manufacture and supply of colour shift security thread for banknotes (quantity 8,00,000 kilometer).
IRAN: Central Bank of the I.R. of Iran Security Paper Mill invite tender for purchase of 50,000 kilometers of Holographic partial Demetallized Clear text window security threads.
TAX STAMP TENDER
Zambia: The Zambia Revenue Authority invite tender for the printing and delivery of 90,000,000 reel format cigarette duty stamps.
India: West Bengal, Request for Proposal for Implementation of automation in Supply Chain Management.
India: Punjab State Excise Department invite bid for Polyester based Excise Adhesive Labels (EALs) to be affixed on Liquor bottles (IMFL , PML & Beer).