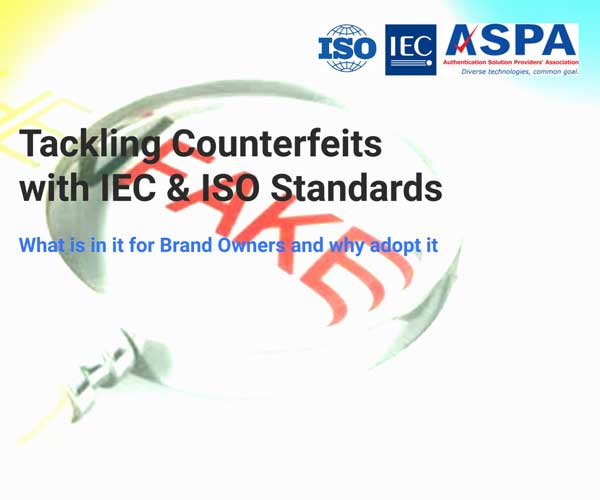 Tackling Counterfeit with IEC & ISO Standards:
ASPA propagate the usage of standards and guidelines in fighting fakes. ISO (International Organization for Standardization) & IEC (International Electrotechnical Commission) has many standards for authenticating the origins and supply chain of all products as well as product-specific standards that ensure they meet internationally recognized safety requirements.
IEC 60335 (series) for the safety of household and similar electrical appliances comprises requirements and test criteria for hazards such as electric shock, fire and toxicity.

EC 62115 for the safety of toys using different power sources, with at least one function dependent on electricity, such as a doll's house with a lamp. It includes toys that function like appliances, and some with screens and means of activation, such as a joystick.

ISO/TS 16791, Health informatics - Requirements for international machine-readable coding of medicinal product package identifiers, guides machine-readable coding based on globally harmonized and interoperable standards, which can be used internationally on a wide scale, thus providing essential support to the industry in preventing counterfeit products.

ISO 22000, Food safety management systems - Requirements for any organization in the food chain.

ISO 28000, Specification for security management systems for the supply chain

ISO 16678, Guidelines for interoperable object identification and related authentication systems to deter counterfeiting and illicit trade.

ISO 10377, Consumer product safety - Guidelines for suppliers, assists suppliers of all sizes in assessing and managing the safety of consumer products from design to production, distribution, use, and disposal.

ISO 223809, Security and resilience - Authenticity, integrity, and trust for products and documents – General principles for product fraud risk and countermeasures, provides general principles for an organization to identify the risks related to various types of product fraud and product fraudsters. It recommends that organizations establish strategic business countermeasures to prevent or reduce any harm, tangible or intangible loss and cost from such fraudulent attacks in a cost-effective manner.

ISO 12931, Performance criteria for authentication solutions used to combat counterfeiting of material goods, specifies performance criteria and evaluation methodology for authentication solutions used to establish good material authenticity throughout the entire material good life cycle.

ISO 8124 (series), Safety of toys, defines requirements and test methods for toys intended for use by children under 14 years of age and sets age limits for various requirements. It also covers aspects such as flammability, migration of chemical substances, and gives specific guidance for swings, slides, and other activity toys.

Standards for Physical & Digital Authentication Solutions Providers

ASPA-TUV Hologram Safety & Security Management System standard is an holistic standard which includes Quality Management System, Information Security Management System, Supply Chain Management, Brand Protection Management System, Data Protection requirements, Prototype Protection Management system, Business Continuity Management System and also incorporating best practices for the domain of Hologram manufacturing globally.

ISO 14298: Management of security printing (and security foil production) processes. This standard, published in 2013, will replace CWA 14641: Drafted mainly by Intergraf, NASPO and the IHMA, it specifies the steps that security printers and hologram manufacturers should follow to ensure that their processes are secure. Intergraf and NASPO both have certification auditors for this standard which require that, as a part of their risk reduction processes, hologram producers should use a hologram register to check the availability of proposed designs and to register their holograms. At present this means the IHMA's HIR as there is no other hologram register operating.

GS1 Global Traceability Standard: The GS1 Global Traceability Standard defines a minimum set of traceability requirements within business processes to achieve full chain traceability, independent of any technology. It outlines a common framework to build a traceability system using other GS1 standards – such as barcodes, data carriers, eCom and EPCIS. This standard allows an end-to-end traceability system, linking the flow of information to physical products. In an event of a food outbreak, the sharing of traceability information between trading partners in the supply chain is critical to ensure a targeted and effective recall.

ISO 22382 for tax stamps: Titled Guidelines for the content, security, issuance and examination of excise tax stamps. The standard is now published and available from the ISO online store (https://www.iso.org/standard/73859.html) and should also be available from every national standards body (NSB). The purpose of the standard is to assist tax authorities to enhance compliance with excise tax regulations by implementing new, or improving existing, excise tax stamps and associated issuance systems.