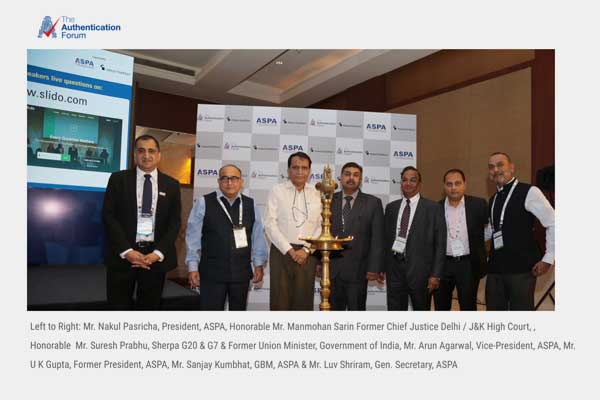 The Authentication Forum (TAF)
TAF is the flagship event of ASPA which it organizes annually in collaboration with Messe Frankfurt India (MFI). The high level forum bring together leaders from the industry and global experts along with top authorities from Government and regulatory, to discuss solutions and effective strategies to address the challenges that counterfeiting poses to the industry, in order to protect brands, businesses and above all consumer rights. A must attend event it is an ideal platform to network and exchange insights with cross-industry peers, solution providers and thought leaders, understand the key challenges faced by major brands across industries and review opportunities to enhance brand safety. For more information, please visit.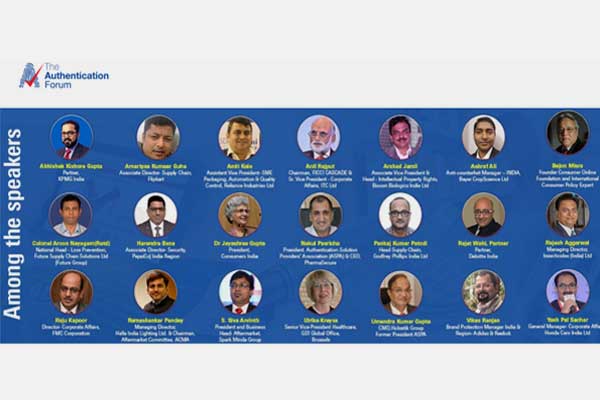 The Authentication Forum 2019
Inaugurated by Shri Suresh Prabhakar Prabhu, India's Sherpa to G7 and G20 and Former Union Minster, Government of India the third edition of The Authentication Forum organised by Authentication Solutions Providers' Association (ASPA) and Messe Frankfurt India was concluded on November 7 & 8, 2019 at Hotel Lalit, New Delhi, India. The conference witnessed 10 sessions, 6 panel discussion, 1 Town hall open session, and presentations over the two days. The Forum was focussed by over 200 delegates including eminent business professionals from India and other countries including Bangladesh, Singapore, Austria, Switzerland, USA & others with Holostik, Kumbhat, Giriraj Foils, Shriram Veritech, Manipal, Fasiculus, HP, Sproxil were partners for the event.
The forum started with Inaugural ceremony and key addresses from Shri Prabhu and & Hon'ble Justice Manmohan Sarin, Former Lokayukta, NCT of Delhi, Chief Justice, High Court of Jammu and Kashmir & Judge, High Court of Delhi focusing on 'providing Regulatory and Judiciary prospective in combating Counterfeiting'.
In his address, Shri Suresh Prabhakar Prabhu said," I am very happy to attend this forum and see the commitment of the industry towards fighting counterfeiting. This "Authentic" Authentication forum is an assurance to the customer that his interest is protected and quality which is promised will be delivered. customer is king and if does not get the service or product of the promised quality then we have a problem, and we must find the best possible solution for this problem. we need to protect the customer's interest and assure him of delivering the quality that he is paying. Technology is one solution for this problem, technology can address this problem in a better way than before. We need to create a strong informed choice for customers and government needs to play a crucial role in this from creating standards, guidelines to implementation, enforcement and awareness. It is important to engage with customers, to engage with government and other stakeholders and this platform brings everyone on the same platform."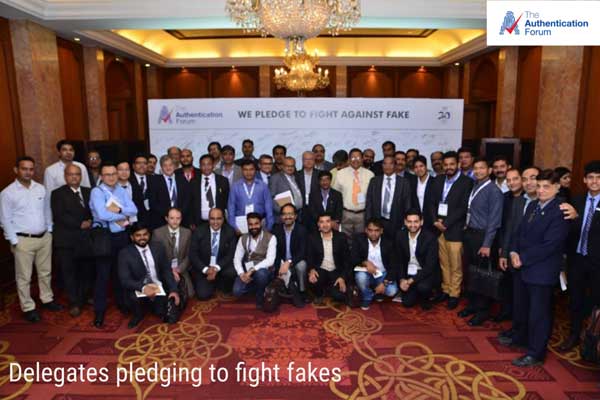 The Authentication Forum 2018
On World Consumer Day, ASPA organize the 2nd Authentication Forum was held on March 15-16, 2018 at India's national capital. The second edition was inaugurated by Union Minister of Ministry of Commerce & Industry & Civil Aviation, Government of India Sh. Suresh Prabhu. The event enabled key decision makers at Government, Industry & consumers to gain first-hand knowledge of anti-counterfeiting technologies and solutions in their fight against fakes.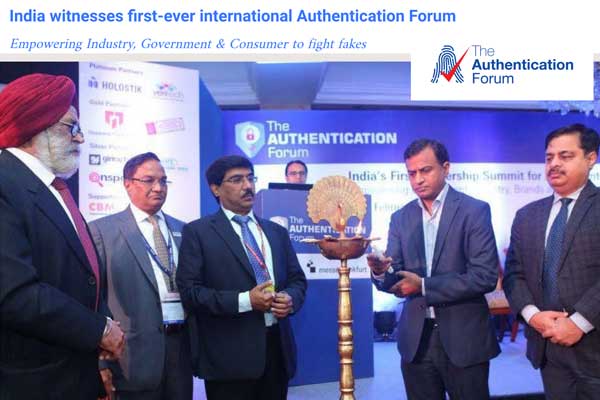 The Authentication Forum 2017
The Indian manufacturing sector witnessed a first-of-its-kind event to impact the prevailing counterfeiting menace. In a strong move against counterfeiting and enabling the "Make-Sure-India" movement in the country, India's first two-day conference authentication conference cum exhibition – The Authentication Forum 2017 opened on February 8, 2017 at The Taj Mahal Hotel, Man Singh Road, New Delhi.
This forum was organised by Authentication Solutions Providers Association (ASPA) and Messe Frankfurt India (MFI) jointly. A high-profile panel of experts including government authorities and technology specialists have come together in New Delhi to mark the launch of this important platform which was inaugurated by Mr. B K Prasad (IAS), Member – Secretary, along-with Mr. P. V. Rama Sastry, Joint Secretary – Department of Consumer Affairs, Ministry of Consumer Affairs, Food & Public Distribution, Govt. of India, and Mr ChandrashekharRanga, Dy Drugs Controller (India), Central Drugs Standard Control Organisation.